Welwyn Garden City, a charming town steeped in history, has found an invigorating way to commemorate its centenary year – a remarkable 20.20 km circular walk that encapsulates the town's natural beauty.
A perfect homage to Ebenezer Howard's innovative concept of a 'marriage of town and country', this circular walk is designed to resonate with the past, present, and future generations.
The walk's accessibility from various points across Welwyn Garden City makes it an attractive option for residents and visitors alike. This extensive pathway not only meanders through the heart of the town, but it also extends to the picturesque countryside that enshrouds Welwyn Garden City.
Eager to make this experience easily accessible, the town has prepared an easy-to-print walk leaflet, available for download. Look out for the vibrant orange way markers guiding your journey through this memorable trail.
The Route
This captivating journey begins and ends in Welwyn Garden City, offering sights of some magnificent landmarks, the likes of which include Stanborough Lakes, Mill Green, The Commons Nature Reserve, and the historical site of the Panshanger Aerodrome. The path also trails through Tewin Bury, Digswell, Sherrardspark Woods, Brocket Hall, and Lemsford.
Designed like a wheel with spokes, the pathway diverges from the circular route into the town, connecting with existing town trails. This unique design allows walkers to either explore a section of the walk or embark on the full 20.20 km journey, depending on their energy and enthusiasm.
In a nod to inclusivity, a one-mile accessible trail loops around The Commons and part of the Nature Reserve. However, please note that access is via a gate, which may pose a challenge for mobility scooters.
Following the walk route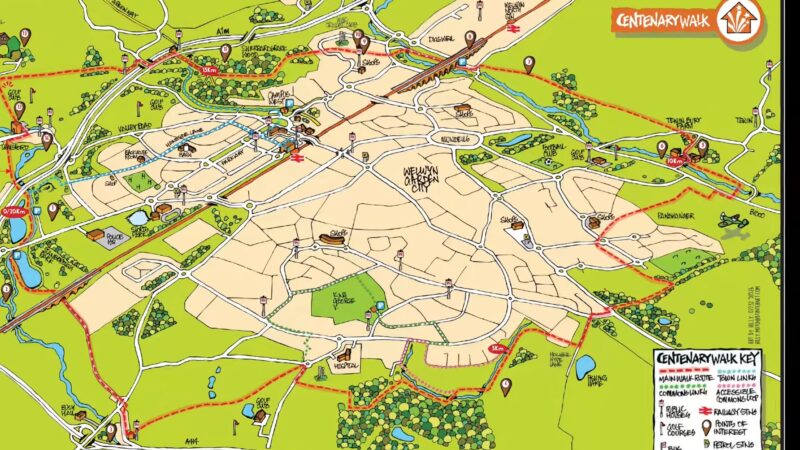 The entire route is signposted with the distinctive centenary waymarkers, making it easy for walkers to stay on track. Complimentary leaflets with an illustrated map and a detailed historical backdrop of the places of interest along the walk are available in various locations in the town centre. A digital version of this leaflet can also be downloaded and printed at home.
Due to the area under the A1 sometimes being susceptible to flooding, a diversion route has been established and clearly marked. Moreover, to enhance the walking experience, two new information boards will be installed at the Digswell car park and Stanborough Lakes later this year.
Who has made the walk possible?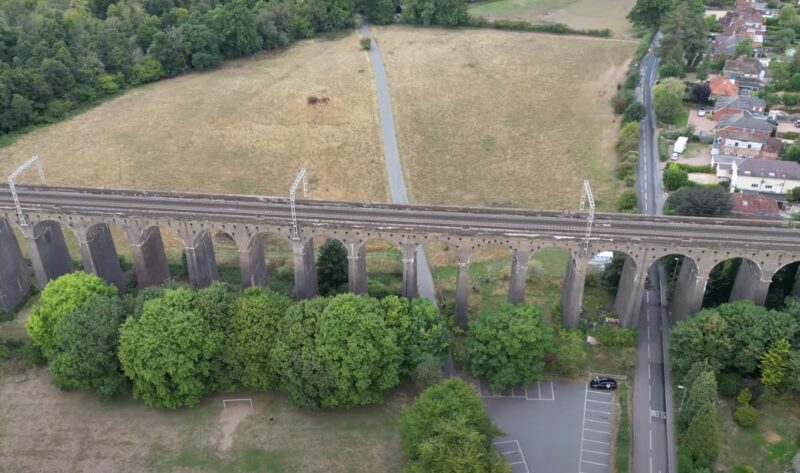 A labor of love and dedication, this circular walk project has been brought to life by a group of enthusiastic volunteers. Their relentless efforts over the past four years, in collaboration with local landowners, Herts County Council, Welwyn Hatfield Borough Council, local disability groups, and historians, have made this trail a reality. Grateful acknowledgment is extended to the sponsors whose generous support has been instrumental in making the walk possible.
Embrace the walk with your family and friends, and don't forget to share your photos and experiences on social media. The team would be thrilled to hear about your journey through this historical and natural vista. Enjoy and celebrate the centenary year of Welwyn Garden City in stride!
Final Words
Welwyn Garden City celebrates its centenary year with a unique 20.20 km circular walk, a brilliant blend of town and country, that offers a glimpse into its historical landmarks and stunning natural beauty.
The trail, a labour of love from a team of dedicated volunteers, is designed to resonate with past, present, and future generations. Enjoy this immersive journey, capture your experiences, and share them on social media to celebrate the town's rich heritage in its milestone year.